Category Archives:
Awards
In season's past, November has always be a bogey month for Arsenal, as they always had a penchant for losing corresponding fixtures as well as playing poorly.
The Gunners began the month with a comfortable victory over Liverpool which was followed up with a hard-fought nervy win over Dortmund. That night, revenge was served in a cold meal as Aaron Ramsey was brave enough to latch unto Olivier Giroud's looping header to nod the ball home.
With the Gunners riding high on confidence and coming to Old Trafford in bullish mode, a bug sent from the pits of Hades ravaged the squad and the performance in Old Trafford was one of the poorest I've ever seen in a long while. After a long wait for club football due to the international break, the Gunners responded to the blip with a win against an error-prone Southampton side.
Arsene Wenger's men put themselves in pole position for Champions League qualification with a victory over Olymique Marseille, and they went seven points clear at the top, albeit temporarily, with a commanding victory over Cardiff City in their own turf.
At the end of each month, Gooner Daily rates the performances of the Gunners using a series of categories. There will be three nominations for each category and the blog's esteemed readers will place their votes on each category. These votes will be used in the season review post that comes up at the end of the season.
SAVE OF THE MONTH
With no Capital One cup action on display, Wojciech Szczesny was used in all six games this month. He also signed a new contract in the course of the month that inspired him to keep five clean sheets in six games, his best run of clean sheets in Arsenal colors I presume.
These clean sheets were only possible because of his brilliance in goal and there were three Szczesny saves that stood out from the crowd. They include:
Szczesny's magnificent save from Frazier Campbell against Cardiff
Szczesny's quick-witted save from Adam Lallana against Southampton and,
Szczesny's low save from Florian Thauvin against Olympique Marseille
GOAL OF THE MONTH
In November, Arsenal played six games and blasted in 10 goals. All these 10 goals contributed to victories and the only game Arsenal failed to score in November resulted in a defeat. With a lot of goals to choose from, Gooner Daily's top three goals of the month include:
Aaron Ramsey's belter against Liverpool
Jack Wilshere's first goal against Marseille
Mathieu Flamini surface-to-goal missile against Cardiff
ASSIST OF THE MONTH
Of the 10 goals scored in the course of the month, eight goals were scored from carefully-threaded passes from teammates while Giroud's brace against Southampton came from the goalies stupidity and a spot kick after Per Mertesacker was fouled by Jose Fonte. Gooner Daily's top three assists include:
Mesut Ozil to Jack Wilshere (Marseille)
Mesut Ozil to Aaron Ramsey (Cardiff)
Mesut Ozil to Mathieu Flamini (Cardiff)
MATCH OF THE MONTH
In the course of the month of November, the Gunners recorded five victories from six games and their good form was on display all month long. With just three to choose from five breathtaking games, Gooner Daily's nominations for match of the month include:
Arsenal 2 Liverpool 0
Dortmund 0 Arsenal 1
Cardiff 0 Arsenal 3
WORST MATCH OF THE MONTH
There's only one unanimous winner for the November Worst Match of the Month, and it goes to the disappointing defeat to Manchester United in Old Trafford, where the Gunners were punished by You-Know-Who.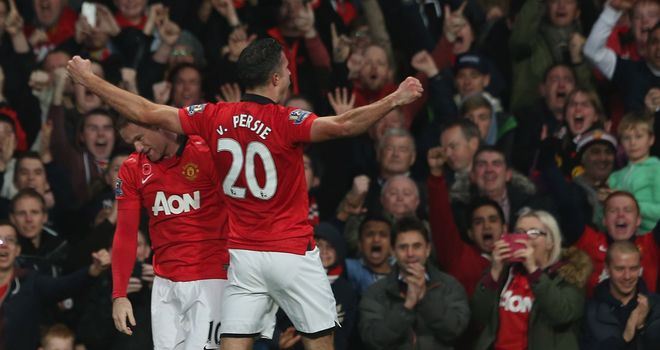 MOST IMPROVED PLAYER OF THE MONTH
This goes to the player that made improved performances in the course of the month. Many players put eye-catching performances in the course of the month, but Gooner Daily's top three include:
Wojciech Szczesny
Tomas Rosicky
Kieran Gibbs
MOST DISAPPOINTING PLAYER
Despite the fact that Arsenal had a good month bar the shambolic outing against Manchester United, some players failed to live up to expectations and the high standards the fans had become accustomed to. Gooner Daily's nominees for the most disappointing player of the month include:
Santi Cazorla
Mesut Ozil
Olivier Giroud
PLAYER OF THE MONTH
This award goes to the most outstanding player in the month of November. Some players have put up a lot of top-notch performances in the course of the month, but Gooner Daily's top three include:
Aaron Ramsey
Laurent Koscielny
Wojciech Szczesny
Feel free to place your votes in any of the categories.
Sayonara.
Gooner Daily has been nominated for the Best Sports blog category in the 2013 Nigerian Blog Awards. Please vote!
You can download the Gooner Daily  BlackBerry App to receive notifications on your Smart Phone when a post is published.
You can follow Gooner Daily on Twitter  @goonerdaily. I'll follow back
Feel free to visit Gooner Daily's  Facebook page and click on the like button.
You can also join Gooner Daily's Mailing List to get notifications of new posts by email by clicking on the Follow button